Development Status
After market research, technology development, and product prototyping, the IntelliBlinds™ Model D is ready for commercialization—and the mostly untapped non-residential daylighting market is more than ready for IntelliBlinds™. Due to its simplicity, cost-effectiveness, and compatibility with existing distribution channels, IntelliBlinds™ can be commercialized quickly and inexpensively, especially relative to its substantial market potential. Even if the latest prototype were completely re-engineered for production, IntelliBlinds™ could be on the market within 10 months of go-ahead.
Ready for Commercialization
Successful product commercialization requires a producible, distributable design based on mature technologies, as well as evidence of enough latent demand to make commercialization worthwhile. For the IntelliBlinds™ Model D, all of the steps necessary to meet those criteria have already been completed: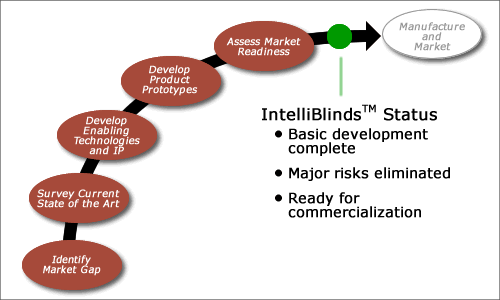 Fills a Long-Standing Market Gap
A typical issue in commercializing an innovative product is whether or not a market exists for it—and, if so, how large that market really is. That's not an issue for IntelliBlinds™.
The IntelliBlinds™ Model D was developed to fill a long-standing market gap: the absence of a cost-effective Dynamic Daylight Control (DDC) technology for non-residential daylighting applications. To ensure commercial viability, development of IntelliBlinds™ was preceeded by extensive analysis of the non-residential energy efficiency market. Information from sources such as the EIA's Commercial Buildings Energy Consumption Survey (CBECS), the U.S. Census Bureau, trade associations, interviews with individuals in key customer groups (such as the Energy Services and commercial property management industries), and the open literature was analyzed to:
Determine the potential size of the market
Identify the major hurdles in commercializing and marketing dynamic daylighting technology
Develop quantitative market penetration and diffusion models
Establish specific product requirements (in terms of functionality, price, appearance, usability, and distribution considerations)
This process resulted in firm, quantitative data to guide development of IntelliBlinds™ and its component technologies—and to accurately assess their market potential after commercialization.
See
Market Research
for more detail on what we did to characterize the market and ensure that the IntelliBlinds™ Model D would have the attributes necessary to penetrate it.
Faces No Direct Competition
Often, the only advantage a ground-breaking product has over potential competitors is time-to-market—and exploiting that advantage requires a relatively large investment in manufacturing and distribution to quickly establish market share. That's not the case with IntelliBlinds™.
Development of the IntelliBlinds™ Model D was preceeded by an extensive technology survey, spanning four components:
Review of the daylighting research literature
Survey of U.S. and foreign patents related to daylighting, particularly for non-residential buildings
Survey of commercially available daylighting products
Cost and performance projections of conceptual DDC products based on conventional technologies
The survey established that the absence of cost-effective DDC products was not due to the failure of manufacturers or distributors to recognize the need for such a product, but rather to the fact that such a product was simply infeasible with conventional technology*. And that remains true today.
And because the breakthrough cost-effectiveness offered by IntelliBlinds™ is due to a synergistic combination of multiple patent-protected innovations, viable competition from another DDC product is unlikely for the foreseeable future.
*This statement is based on experience: development of the IntelliBlinds™ Model D was preceded by an effort to develop a cost-effective DDC product based on conventional technology. Those efforts spurred the development of the patented innovations underlying IntelliBlinds™.
Advantages
provides more information on why IntelliBlinds™ is a breakthrough relative to conventional dynamic daylight control technology.
Enabling Technologies are Mature and Protected as Intellectual Property
While together enabling an order-of-magnitude improvement in cost-effectiveness over conventional technology, each individual IntelliBlinds™ innovation has been subjected to multiple prototyping iterations and extensive testing, and can be implemented using off-the-shelf components and standard production processes.
All of the key innovations are protected by U.S. utility patents, and additional patent applications are being filed to cover recent improvements.
Latest Prototype is Adaptable for Volume Production
The latest IntelliBlinds™ Model D prototype design, the Evo-3, is intended for limited production to support demonstration and research efforts. Accordingly, it includes research capabilities that could be omitted (for cost reasons) in a production unit, and has a design that avoids the need for production tooling at the expense of higher unit cost.
However, the basic design could be easily and quickly engineered for production. In addition to final product design (for improved aesthetics), all that would be needed is to remove the additional circuitry (primarily the wireless RF transceiver) used for remote monitoring and control, and to replace some machined, hand-worked, and vacuum-formed parts with cast, stamped, injection-molded, and blow-molded equivalents. Production tooling and UL/FCC certification would also be needed.
Alternatively, even a complete re-engineering of the IntelliBlinds™ Model D for high-volume production could still be accomplished in less than a year, and—because the resulting design would be significantly cheaper—the associated engineering costs could be recouped in just a few months of sales.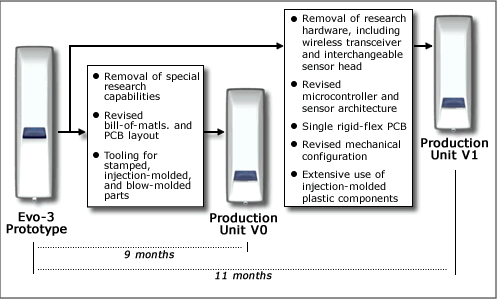 As with the Evo-3, details of the reference high-volume production unit are omitted herein because they are the subject of in-process patent applications.
Key differences between the Evo-3 and the reference production design include:
Revised microcontroller and sensor architecture for lower parts count and reduced cost in high-volume production
Single rigid-flex PCB to replace three rigid PCBs in prototype design
Revised mechanical configuration to reduce production labor
Use of injection-molded plastic components for to replace certain stamped steel components in the prototype design
Note that the size (and, to a certain extent, the cost) of the production design is driven by the variation in sizes of available venetian blinds. The production design is specified to be compatible with 90% of the horizontal blinds currently installed in U.S. non-residential buildings, and could be smaller if the compatibility specification were reduced to, say, 75%.
In addition to the size/compatibility trade, there are many other design trades that could be ma
Design Trades
for information on some of more significant potential design variants.
Model D's aesthetics, cost, and capability. See
Market is Ready and Waiting
As early as 2001, IntelliBlinds™ prototypes were demonstrating that Dynamic Daylight Control could provide a commercially attractive payback period in retrofit daylighting applications. However, economic conditions at that time were not conducive to commercialization, and market interest in green technologies was modest.
Since then, electricity prices have risen by almost 30% while the cost of daylight-harvesting lighting technology has dropped significantly. These developments—coupled with improvments in IntelliBlinds™ technology and design—have resulted in substantial reductions in the projected average payback period: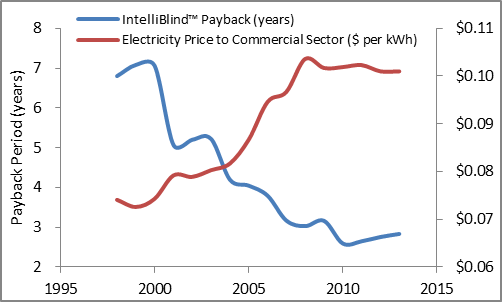 While already attractive in 2001, the projected median payback period for the IntelliBlinds™ Model D in a typical application is now just 2.8 years when used with a two-zone dimming-and-switching lighting control. And that short payback is even more compelling now than it would have been in 2001, because most other quick-payback retrofit technologies are already approaching 100% market penetration, and are thus no longer candidates for many new retrofit projects.
On top of this, the market's interest in "green" and energy-efficient technologies is currently at a fever pitch, as evidenced by developments such as:
The President's recently announced Better Buildings Initiative
Extensive green-oriented media coverage
The availability of substantial venture capital for green R&D
The existence of numerous industry and goverment-sponsored PR and incentive programs to stimulate energy conservation and green building design, such as the Leadership in Energy and Environmental Design (LEED) certification system developed by the U. S. Green Building Council
The market's rabid interest in energy efficiency—coupled with an attractive payback period—has created a highly favorable climate for IntelliBlinds™ market entry.
Ongoing R&D
IntelliBlinds™ is now ready for commercialization, so the current focus is on preparing for production and market entry. In the background, however, R&D efforts are ongoing to further improve the design and expand the Intellectual Property, including:
Testing of the sensors, algorithms and software using the Evo-3 breadboards. This includes ongoing long-term testing of the original configuration in different seasons and weather conditions, as well as perfecting recent innovations in preparation for submittal of patent applications.
Fabrication of Evo-3 prototypes. The Evo-3 prototype is intended to support independent research and demonstration efforts with a physical configuration that is similar (but not identical) to that of the envisioned production unit. The basic Evo-3 design was completed in 4Q 2012, but fabrication was deferred pending testing of improvements to the IntelliLux™ sensor design. That testing has been completed, so the first run of Evo-3 units will be available soon.
Filing of utility patent applications for recent innovations. Virtually every aspect of the IntelliBlinds™ design and underlying technology has experienced significant improvement since award of the original patents, and is the subject of an in-process (not yet formally pending) patent application.
What's Next
From an engineering standpoint, only four steps remain in order to prepare the IntelliBlinds™ Model D for volume production:
Finalizing the production unit specifications
Completing the production unit design
Selecting the Electronics Design Manufacturing (EDM) contractor
Fabricating, qual-testing, and UL/FCC-certifying the pre-production prototypes
This production engineering phase could be followed immediately by full-rate production using high-volume tooling. However, a Low-Rate Initial Production phase with temporary tooling—in order to support specific retrofit projects—could be undertaken first, providing an opportunity for another "design spin" prior to full-rate production. Even under the conservative assumption that every aspect of the Evo-3 prototype is re-designed, initial market entry (with 1,000–10,000 LRIP units) could be achieved in 10 months after go-ahead, with full-scale market entry within 16 months: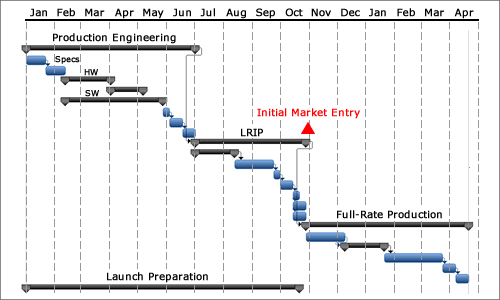 Optional Joint Research and Demonstration Program
In addition to providing the capabilities, look-and-feel, and most of the design features of the envisioned production unit, the Evo-3 prototype design also includes special capabilities to facilitate daylighting research and demonstrations.
For example, Evo-3 prototypes could be used to demonstrate the full potential of daylight harvesting with IntelliBlinds™ in an occupied building. Such a demonstration program could be conducted jointly with a university laboratory, ESCO, and/or building owner/operator, each of which would benefit from participation. The resulting data would also provide useful data for further refinement of the design and software. Such a program could be executed either before or concurrently with the aforementioned Production Engineering activities.
Summary of Key Points
The IntelliBlinds™ Model D miniblind actuator is ready for immediate commercialization

Development was preceded by extensive research of the non-residential energy efficiency market
Because its order-of-magnitude advantage in cost-effectiveness is due to multiple patent-protected innovations, IntelliBlinds™ will face no viable competition in the marketplace for the foreseeable future
Each IntelliBlinds™ innovation has been refined through multiple design-build-test iterations, and can be implemented using off-the-shelf components and standard production processes
The current IntelliBlinds™ Model D prototype (which offers a super-set of the capabilities of the envisioned production unit) can be readily adapted for high-volume production
The market's rabid interest in energy efficiency—coupled with its extremely attractive payback period—has created a highly favorable climate for IntelliBlinds™ market entry

IntelliBlinds™ is inherently easy to commercialize due to its simplicity, cost-effectiveness, and compatibility with existing distribution channels

The current IntelliBlinds™ Model D prototype (which offers a super-set of the capabilities of the envisioned production unit) could be readily adapted for high-volume production
Even if every aspect of the current prototype were re-designed, initial market entry (with 1,000–10,000 LRIP units) could be achieved in 10 months after go-ahead, with full-scale market entry within 16 months